Let's start like this: It's easier than you might think!
The instructions on the wiki may have confused a few of us including me. But after I dug into it, I found out that there is one better way to do this. I'm going to put this in THE simplest way possible.
CAUTION: Please apply all the instructions carefully, and do it at your own risk.
CAUTION 2: Make sure to have a backup of your files because everything will be deleted from your device.
– Make sure to have your contacts synced with your Google account on your Nexus 5, and possibly have a cloud backup of everything that is stored on your phone because I repeat, this will wipe everything out of your phone.
CAUTION 3: This instruction is only written for Windows® users. Linux and Mac users, please let me know if you also want a tutorial.
Also: Having Sailfish OS ROM on your phone means installing a brand new OS which is NOT Android by any means and will not (yet) support any Android application. You do have dual-boot capability with other operating systems like Android or Ubuntu Touch. But basically if you're willing to install Sailfish OS (Alpha 3 stage at this moment) on your Nexus 5, it should be for testing purposes OR if you're a developer, you can help the community to complete this build of Sailfish OS with everything working flawlessly.
Step 1: Installing cyanogenmod
Either go to CyanogenMod installer page and follow the instructions, or just continue reading because this part will be a direct ripoff from CyanogenMod.org website. (I'm not proud of copying but at least I admit it and it looks really neat 😀 )
1
Allow installation of the CyanogenMod Installer App
Open the Settings application and navigate to Security.
(on some devices, you may need to navigate to Applications)
Locate the Unknown sources option.
If Unknown sources is already checked, you can skip this step.
If unchecked, tap the checkbox and then tap OK on the
confirmation popup.
2
Download the CyanogenMod Installer App
From your Android phone or tablet, visit
http://get.cm
using your web browser or scan the QR code.
3
Install the CyanogenMod Installer App
When the download is complete, open your notifications and tap
OneClick.apk.
Tap Install to start the installation.
Once it's finished, tap Open to run the app.
Follow the instructions displayed on your Android phone or tablet to
continue the installation process.
4
Download the CyanogenMod Windows Installer
Download the CyanogenMod Installer for Windows Vista/7/8.
Run the CyanogenMod Installer for Windows and follow the on-screen
instructions.
5
Enjoy CM!
Wasn't the 5th part cute? 😉
Step 2: Install Sailfish OS!
This may get a bit tricky for some, but stay with me!
Install MultiROM manager on your Nexus 5 by downloading it from PlayStore (see, Playstore can be cool sometimes!)
    Download CyanogenMod Image from here >> Click me <<
    Download Sailfish OS 1.0.8.19 (Alpha 3) from here >> Click me <<
    Note: I will update the post as soon as a new release was out.
    Put both of the downloaded files into your device (Just paste them in the root folder)
    Reboot into Recovery mode
How to:
   

–

 Turn off the phone.


    –

  Press volume down and power buttons at the same time.


    –

 The boot loader mode will be displayed.


    –

 From there choose "recovery" by pressing the volume down button and you are done.
    When you entered the recovery mode, you shall see a page "like" this (I promise, the battery percentage was a total co-incidence 😉 ) :
Tap on:

Advanced

->

MultiROM

->

Add ROM

Choose "SailfishOS" as ROM type.  leave install location as is. Tap Next.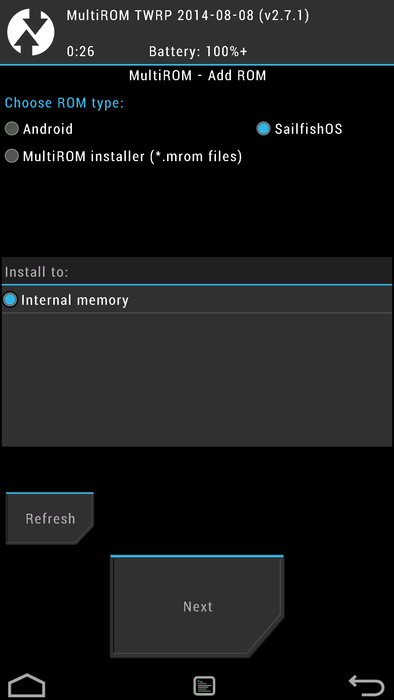 Choose first CyanogenMod ZIP and then SailfishOS ZIP. Tap install.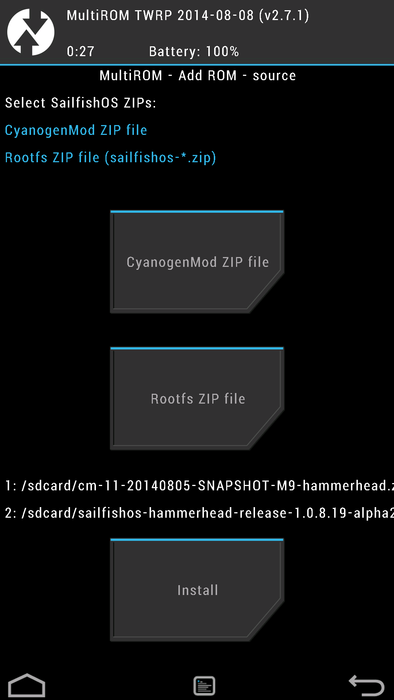 Believe it or not, despite a little trickiness, you're done! Just wait for the OS to extract itself into your device's memory and start using it. And trust me, this was the easiest way possible, at least from my perspective. Know an easier way? Hit it in the comment section!
FAQ:
 Do I need an unlocked bootloader?
No, CyanogenMod installer will take care of that!
Do I need a rooted phone?
No! Let CyanogenMod installer do it for you without you noticinig anything!
What if I'm already on CyanogenMod?
Then make sure it's the latest version and carry on from Step 2!
Other questions? Please feel free to ask.
Note: I know I have said it a thousand times but please note that this post is only related to LG Google Nexus 5 Not any other phone.
Hardware support status: (Click on the image for a larger size and more readable content if you are having trouble)
SOURCES: This post is gathered from many places;
A very special thanks to Martin Brook and Carsten Munk for providing the information and helping me along and more importantly, making the whole thing happen in the first place.
Please feel free to ask any question you have regarding Sailfish OS on Nexus 5 in the comment section.
Cheers.